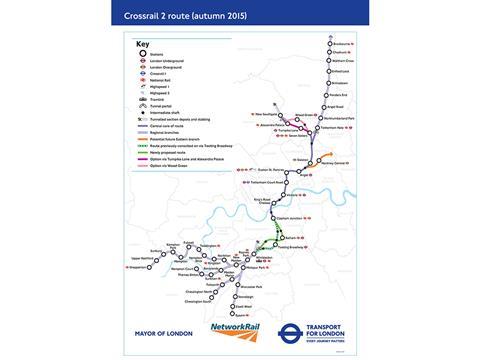 UK: Ways to improve the affordability of the proposed Crossrail 2 project while maximising the benefits are to be studied, Secretary of State for Transport Chris Grayling and Mayor of London Sadiq Khan have jointly announced.
The Crossrail 2 proposal comprises a tunnel to link up rail routes in the southwest and north of the capital. Planning would be informed by lessons learned from the east–west Crossrail 1 project to build what will be designated the Elizabeth Line, Grayling and Khan said in a statement issued on July 24 following a meeting on July 18.
They said London had shown how it could pay for half of the Crossrail 2 scheme over its life, but they now wanted to see 'how London could fund half of the scheme during construction' though a funding package 'which works for both London and the rest of the country and recognises other priorities, but also delivers the new capacity and connectivity that London needs'.
'I am a supporter of Crossrail 2 but given its price tag we have to ensure that we get this right', said Grayling. 'The Mayor and I have agreed to work together on it over the coming months to develop plans that are as strong as possible, so that the public gets an affordable scheme that is fair to the UK taxpayer. Following a successful outcome being reached I am keen to launch a fresh public consultation to help gather views to improve the scheme and clarify the position around the safeguarded route.'