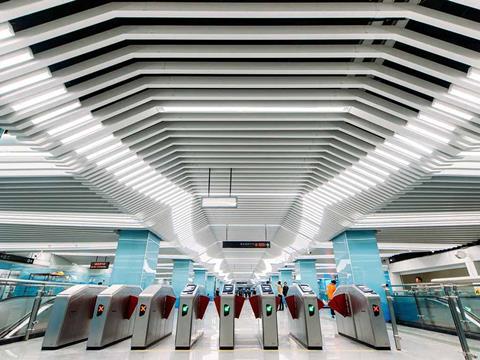 CHINA: Two suburban metro lines opened in Guangzhou on December 28, and one metro line was extended.
The main section of Line 14 runs for 54·4 km between Jiahewanggang and Dongfeng in the northeast of the city, serving 13 stations. At Xinhe the Knowledge City Line branches off. Opened exactly one year previously, this now becomes a branch of Line 14.
Stopping services operate every 7 min and express services every 35 min. CRRC Zhuzhou has supplied 30 Type B trainsets, which were assembled in Guangzhou. The fleet is stabled at a depot at Dengcun and in sidings at Shihu.
The 26 km Line 21 serves nine stations between Zhenlongxi and Zengcheng Square via Zhenlong, where interchange is provided with the Knowledge City branch of Line 14. Like Line 14, Line 21 is designed for 120 km/h operation and uses a mix of stopping and express services. CRRC Zhuzhou has supplied 33 locally assembled Type B trainsets.
A 35·4 km western extension of Line 21 between Zhenlongxi and Yuancun is scheduled to open in late 2019.
A 5·4 km eastern extension of the interurban Guangfo Line was also inaugurated on December 28, adding three stations between Yangang and Lijiao. An extension at the other end is also planned.