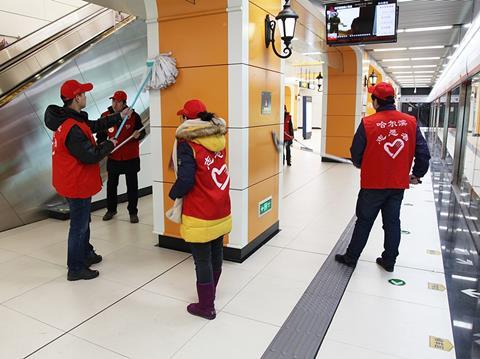 CHINA: The first section of Harbin metro Line 3 opened on January 26. The 5·3 km route runs from Yidaeryuan on Line 1 to Changxianglu via Harbin West railway station, serving five stations.
Construction of the underground southwestern section started in 2014 as the first phase of what will eventually be a 37·6 km circular route with 32 stations. The southeastern section is due to open in 2020 and the northern part two years later.
Services are provided with a fleet of six-car Type B type trainsets supplied by CRRC Changchun that draw power from a 1·5 kV DC overhead supply.
Line 3 is the second metro line in Harbin. Line 1 opened in September 2013 and Line 2 is under construction between Harbin North railway station to Jinshanlu. Interchanges will be provided at Zhaolin Park and Honqi with Line 3, and at Museum with Line 1. Opening is scheduled in 2020. Two further metro lines are scheduled to open after 2025.