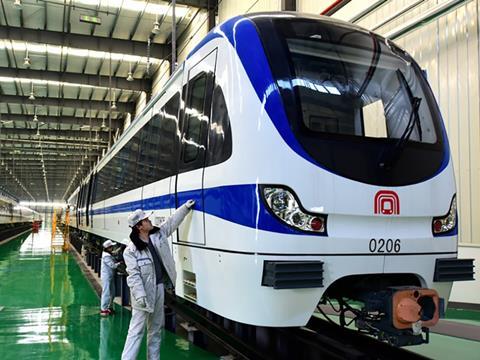 CHINA: The second metro line in Hefei was opened for revenue service on December 26, exactly a year after the first route in the capital of Anhui Province was inaugurated.
Running entirely underground, the 37·8 km east-west Line 2 links Nangang to Sanshibu. There are 24 stations, including an interchange with Line 1 at Dadongmen.
Electrified at 1·5 kV DC with overhead catenary, Line 2 is operated by a fleet of six-car Type B trainsets running at a maximum speed of 80 km/h. Test running on the route had started on December 6. Services are initially operating from 06.00 to 22.00, with a 5½ min headway at peak times and off-peak intervals of 7 min.
A 14·2 km eastern extension of Line 2 with 10 stations is currently in development; of this the outermost 6·8 km would be elevated. A northern extension of the 29 km Line 1 is already under construction. Three more lines with a combined length of 119 km and 96 stations are expected to open in 2019 and 2020. In the longer-term, Hefei is hoping to complete an eight-line network totalling more than 300 route-km.