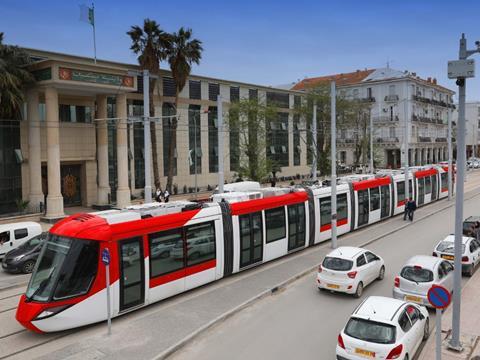 ALGERIA: The first phase of the Sétif tram network was inaugurated on May 8. The 15·2 km east-west route runs from 11 Décembre 1960 to Berchi Abid and Oucissa Laid, which both serve Université El Bez.
In March 2014 Entreprise Métro d'Alger awarded a consortium of Yapı Merkezi and Alstom a turnkey contract to build the tram network. Construction started in May 2014.
The Cital joint venture of Ferrovial (41%), Entreprise Métro d'Alger (10%), Alstom Transport France (43%) and Alstom Algérie (6%) has supplied 26 Citadis trams assembled at its factory in Annaba. The 100% low-floor bidirectional trams are 44 m long and 2 600 mm wide with capacity for 302 passengers. The seven-section trams have six double and two single doors per side, and are equipped with air-conditioning and CCTV.
Alstom has also supplied signalling and telecoms, SCADA equipment, an operations control centre, a high-voltage substation, as well as equipment for the electrical substations, ticketing and overhead contact line.
A 6·2 km north-south line connecting Mostafa Benboulaid on the existing route with Zone Industrielle is due to open as the network's second phase.