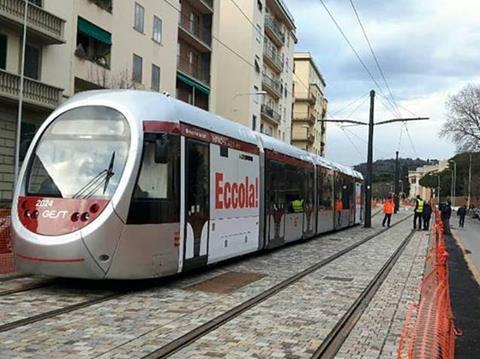 ITALY: Test running on tram route T3 in Firenze began on February 12 using a Sirio tram that Hitachi Rail Italy delivered to the city on February 9. Tests are underway on the Careggi – Piazza Dalmazia section at the northern end of the route.
Due to open in August, the 4·1 km route would run from the existing terminus of route T1 at Alamanni-Stazione to Careggi hospital, offering an end-to-end journey time of 20 min.
Hitachi Rail Italy is supplying seven five-section bidirectional trams to operate the route. The 100% low-floor vehicles are 32 m long, with capacity for 273 passengers including 42 seated. These will augment the fleet of 17 in use on the existing T1 service.
In November 2016 the supplier completed deliveries of 22 trams that are to enter service on route T2. Due to open in October, this line would link Piazza dell'Unità d'Italia in the city centre with the airport in the northwest, via Firenze Belfiore high speed rail station, which is currently under construction.