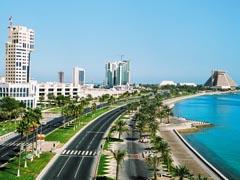 QATAR: Groundbreaking ceremonies on October 10 marked the start of work on the key interchange station at Msheireb, which will form the hub of the Doha metro network.
Qatar Rail CEO Saad Ahmed al-Muhannadi and the Managing Director of Msheireb Properties Abdulla al-Subaie joined the celebrations, along with QR's senior programme director Peter Lynch and other local officials. The station is being built as part of Msheireb Properties' landmark Msheireb Downtown Doha regeneration project.
The Qatar Integrated Railway Project covers four metro lines in Doha, tram routes in West Bay and Lusail, a high speed line and dedicated freight railways. In August Qatar Rail signed five contracts totalling 1·48bn riyals for work on the first phase of the metro, which covers 129 route-km including the Red, Green and Gold lines. According to al-Muhannadi, Phase 1 is due to open in 'the fourth quarter of 2019', well ahead of the 2022 FIFA World Cup .
Contractor HSP Enabling JV, a joint venture of HBK, Saudi Bin Laden Group, and Porr, began work began last month to prepare the alignment and construction sites before the design-and-build contractors to start work in early 2013.
The core city-centre interchange at Msheireb is located at a point where the Red and Green lines will be running in parallel and intersected by the Gold line. The station concourse will be 15 m below ground, with a direct connection to the retail developments. The Red and Green line platforms will be 22 m below ground, and Gold line at a depth of about 33 m.
Msheireb Properties' Chief Officer for Design & Delivery Mohamed al-Marri said integrating the metro interchange within the sustainable MDD project would help to minimise its environmental impact, as well as connecting communities across the country more closely with the heart of the capital.
According to al-Muhannadi, Phase 1 of the metro includes 60 km of twin-bore tunnelling. The Red Line will link New Doha International Airport with Qatar University via Msheireb and West Bay. The Green Line will link Msheireb to Education City and the east-west Gold line will connect Airport City North to Al Waab.
Tenders for construction of the elevated sections are to be invited before the end of this year, so that contracts can be awarded in the third quarter of 2013. Contracts for the trackwork and E&M systems are to be placed in the first quarter of 2014, and the rolling stock contract will be awarded in the second quarter of 2015.
For more about the Qatar Integrated Railway Project, read our article from the March 2012 issue of Railway Gazette International, available to subscribers in our digital archive.