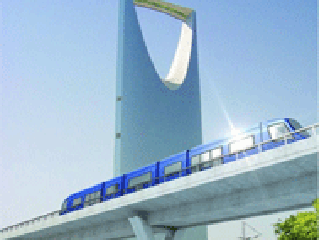 SAUDI ARABIA: Arriyadh Development Authority invited expressions of interest in civil engineering, railway systems and rolling stock contracts for the proposed Riyadh metro on May 15. Responses are to be submitted by June 20.
The Saudi cabinet has approved a four-year plan to develop a metro and bus transport network in the capital. The project is being led by Prince Sattam, Governor of Riyadh and Chairman of ADA.
One metro line is planned to run 17 km along King Abdullah Road from King Khaled Road in the west to Khaled Ibn Al-Waleed Street in the east, with 11 stations. A second line would run 25 km north-south along Al-Olaya and Al-Batha streets, with 25 stations.