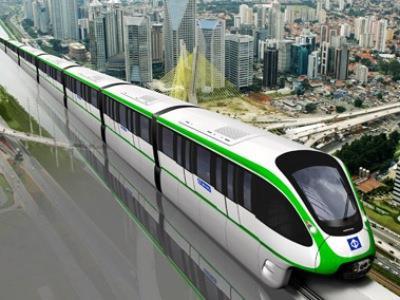 BRAZIL: São Paulo metro authority CMSP has selected a consortium including Bombardier to design, supply and install an automated monorail line in the city's eastern suburbs at a total cost of US$1·44bn. Phase I of the project is due to be opened for passenger services by 2014, when Brazil will host the FIFA World Cup.
Known as Expresso Tiradentes, the line will be 23·8 km long with 17 stations. It will run east from the new terminus of metro Line 2 at Vila Prudente via São Mateus to the growing suburbs around Cidade Tiradentes. The monorail is predicted to cut the current road journey time of around 2 h to just 50 min, and is expected to carry 500 000 passengers per day. Design capacity is 40 000 passengers per hour in each direction.
The Express Monotrilho Leste Consortium is led by Brazilian civil engineering contractor Queiroz Galvao, along with construction firm Construtora OAS and Bombardier as the E&M equipment supplier.
Bombardier will supply its Innovia Monorail 300 technology, including 54 seven-car trains, and its Cityflo 650 automatic train control technology for driverless operation. The company will also provide project management and systems engineering for the integration, testing and commissioning of the new trains and signalling. Bombardier values its share of the design-build contract at US$816m.
Engineering, design and testing for the vehicles will be undertaken at Kingston, Ontario, with the initial cars to be manufactured in Pittsburgh and the later ones at Bombardier's Brazilian plant in Hortolandia, around 100 km from São Paulo. Bombardier Transportation President & COO Andre Navarri said 'investment in local manufacturing is a key element in our project delivery plan, and essential for Bombardier's long-term participation in Brazil's fast growing railway market'.
The company has already equipped fully-automated monorail lines in Tampa, Newark, Jacksonville and Las Vegas, and is currently supplying Innovia Monorail 300 technology for the 3·6 km line serving the King Abdullah Financial District in the Saudi Arabian capital Riyadh.