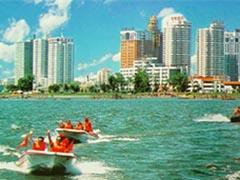 CHINA: MTR Corp, Shenyang Metro Group and the Shenyang municipal government signed a 30-year operations and maintenance concession for the future metro lines 1 and 2 on May 7.
The contract signing follows from an agreement in principle which was signed last November. The metro will be operated by a joint venture of MTR Corp (49%) and Shenyang Metro Group (51%), a wholly-owned subsidiary of the municipal government. The concession includes pre-opening preparations, train and station operations and maintenance. It does not included asset replacement, for which the joint venture will receive a fee.
The 28 km Line 1 will open in 2010, running east-west with 22 underground stations. The 22 km north-south Line 2 will open two years later, with 19 underground stations. The 20bn yuan cost of the lines is being funded by the city government.
MTR Corp has also signed an agreement to explore property development opportunities along the routes, including the Golden Corridor revitalisation project along Line 2.
In the longer term 11 lines are planned. Studies are already underway for Line 4, and a northern extension of Line 2.