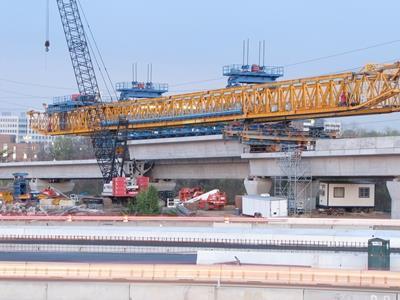 USA: On May 14 Metropolitan Washington Airports Authority awarded Capital Rail Constructors a design-build contract for Phase 2 of the Silver Line metro extension.
Capital Rail Constructors is a consortium comprising Clark Construction Group, Kiewit Infrastructure Group, Parsons Transport Group and Dewberry. Its bid of $1·18bn was the lowest of the five bids submitted.
The contract covers the 18·3 km extension of the Silver Line from Wiehle Avenue to Washington Dulles International Airport and Route 772. Phase 2 includes six stations: Reston Town Center, Herndon, Innovation Center, Washington Dulles International Airport, Route 606 and Route 772/Ashburn. The contract also covers trackside equipment.
According to MWAA, this is the largest of several Phase 2 procurement packages, covering around half of the work on Phase 2.
MWAA has also approved a contract with Jacobs Engineering to continue providing project management services during Phase 2.
Phase 1 of the Silver Line, from Falls Church to Wiehle Avenue in Reston, is under construction and due to open this year. Phase 2 is expected to open in 2018. Road tolls, contributions from the airport and various public funds are being used to pay for construction.