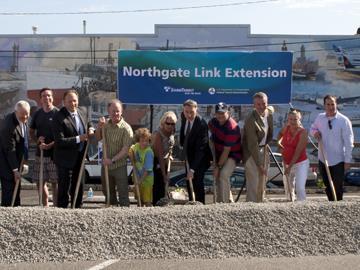 USA: A groundbreaking ceremony on August 17 marked the start of work on the Northgate Link light rail extension in Seattle, a 6·88 km route running mostly in tunnel from University of Washington station to U District, Roosevelt and Northgate.
The project is expected to cost $2·1bn, with opening planned for 2021. Construction starts with demolition work in the Roosevelt area, and in 2013 Sound Transit is due to appoint a contractor to bore twin 5·92 km tunnels from Roosevelt to University of Washington. TBMs are due to commence work in late 2014.
The Northgate Link Extension is the biggest project to start within the Sound Transit 2 extension programme, which totals 57·6 km. 'The start of construction not only offers good news for commuters but also for our entire region's economy, with our projected creation of more than 20 000 direct and indirect jobs', said Sound Transit Board Chair and Pierce County Executive Pat McCarthy.
'The Northgate Link light rail extension is a big win for Seattle, bringing the region a step closer to completing a first class transportation system', said US Federal Transit Administrator Peter Rogoff. 'This project creates jobs and brings more good transportation choices to everyone who lives and works in Seattle, the University of Washington and Northgate.'