First established by the Welsh Government in 2021, it is a major infrastructure project that will become your 'one stop shop' for railway innovation, from research and development, through testing and verification, to applied innovation on mainline passenger and freight railways.
Visit https://tfw.wales/projects/GCRE to find out more or email enquiries@gcre.wales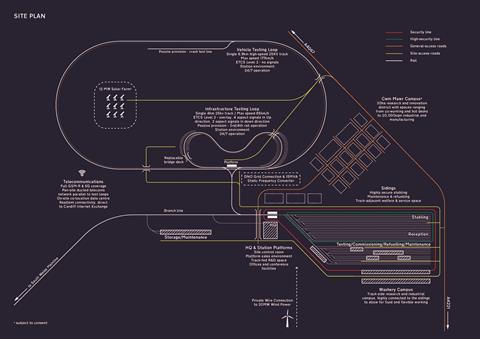 Facilities
Situated on the former Nant Helen opencast site and Onllwyn Washery in Neath Port Talbot and Powys in South Wales, the 550 hectare facility will include two test loops, one being a 6.9km electrified high speed rolling stock track with a maximum speed of 177km/h and the other a 4km 65km/h test track. Other facilities will include a dual-platform test environment, rolling stock storage and maintenance facilities, operations and control offices, staff accommodation, shunting staff facilities and connections to the nearby main line.
There will also be state of the art IP secure testing environments; equipment, systems and communications development facilities, an onsite 100-bed hotel, education, training, visitor and conference facilities.
Please do contact us at enquiries@gcre.wales if you have any questions or would like to find out more.
Project status
Outline planning consent for GCRE was granted by Neath Port Talbot Council and Powys County Council in 2021. Various tier one contractors have now been appointed including Hirwaun-based Walters Group who are working with Atkins to prepare the site for construction.
Arcadis are developing the rail systems design and Mott MacDonald is focused on the net zero energy strategy. A multidisciplinary team has also been appointed to produce an overarching masterplan for the transformation of the site. 5th Studio, Expedition Engineering, Jonathan Cook Landscape Architects, Faithful & Gould, Fairhurst, PRD, Wildwood Ecology and Thirty 4/7 are in the process of developing a holistic spatial plan that will incorporate the track testing facility including proposals for the future landscape of the whole site, together with an innovation campus incorporating visitor accommodation. This integrated design process will include public consultation to engage and integrate the views of local residents.
The project is split in to three core phases:
Phase 1 – The provision of sidings for rolling stock from June 2023
Phase 2 – The building of two electrified test loops, one high speed test loop 6.9Km long and a 4km Infrastructure test loop together with supporting infrastructure and buildings from 2024
Phase 3 – The addition of expanded stabling, maintenance, and commissioning facilities along with research facilities, hotel, and business park in 2025 and ongoing.
We expect the first phase of the masterplan construction to be completed by the middle of 2025.
Meet the GCRE team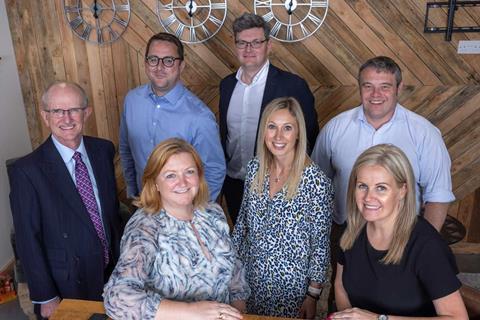 You can meet the team responsible for delivering GCRE at Innotrans in the UK Pavilion Hall, 23. You'll find them on stand 340 along with the Welsh Government.
Contacts
Simon Jones: Chief Executive Officer
simon.jones@gcre.wales
Arthur Emyr: Head of Engagement
arthur.emyr@gcre.wales
Kelly Warburton: Chief Commercial Officer
Kelly.warburton@gcre.wales