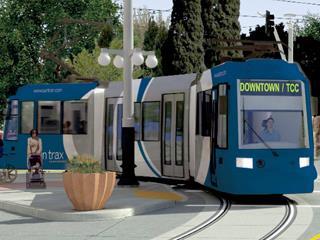 USA: Transportation Secretary Ray LaHood was in Tucson, Arizona, on April 12 for a ceremony to launch major construction works for the Tucson Modern Streetcar project and unveil the Sun Link branding for the new line.
The 6·2 km route will run on-street from Arizona Health Sciences Center via the University of Arizona and 4th Avenue Business District to the downtown area and a loop in the Mercado District. There will be 17 stops serving a population of more than 85 000.
Opening is scheduled for late 2013. Services will run from 06.00 to 02.00, with a 10 min frequency during the day and 20 min in the evenings.
A $56m construction contract has been awarded to the Old Pueblo Trackworks joint venture of Granite Construction and RailWorks Track Systems. Seven low-floor air-conditioned trams with a capacity of 180 passengers each have been ordered from Oregon Iron Works' United Streetcar subsidiary.
The project is being managed by the City of Tucson and the Regional Transportation Authority as part of a $2·1bn transport plan supported by a sales tax which local voters approved in 2006. The federal Department of Transportation is meeting $78·7m of the $196·6m cost of the streetcar project, with the remainder coming from local sources.
'Tucson is joining a growing list of American cities - from Portland, Oregon, to Charlotte, North Carolina - where the modern streetcar is spurring economic development, revitalising downtown neighbourhoods and attracting a new generation of riders', said LaHood.