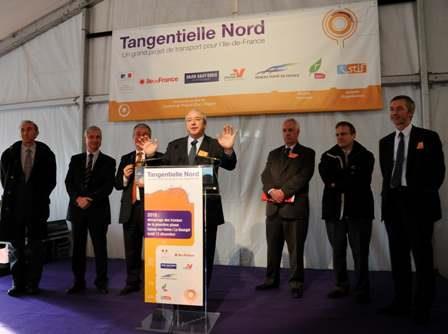 FRANCE: Jean-Paul Huchon, President of Ile de France region and STIF, officially launched work on the first phase of the Tangentielle Nord project between Epinay-sur-Seine and Le Bourget on December 13.

Speaking at the ceremony at Pierrefitte-sur-Seine, Jean-Paul Huchon described the project as 'historic'. 'It is the biggest railway achievement in Ile de France resulting from the Etat-Région 2007–13 project plans but above all it is the first inter-suburban link,' he said.

Tangentielle Nord is to be built alongside the existing northern section of the Grande Ceinture, the freight-only railway ring around Paris, which closed to passenger traffic before World War II. Phase I will cost €607m and involves construction of 11 km of new line and three stations, at Villetaneuse-Université, Pierrefitte-Stains and Stains-Cerisaie, plus the renovation of four existing stations. Six level crossings will be replaced by bridges or underpasses and 7 km of noise barriers installed alongside the tracks.

Finance will be provided by Région Ile de France (53·1%) the French government (31·3%), the département of Seine-Saint-Denis (6·1%), RFF (8·5%) and the département of Val d'Oise (0·95%).

Phase II involves two extensions totalling 17 km, to the west crossing Val d'Oise to Yvelines with two stations at Argenteuil and two at Sartrouville, and to the east with stations at Drancy, Bobigny and Noisy-le-Sec. The line will provide connections to all five RER lines and suburban services to Paris-Est, Paris-Nord and Saint Lazare.

When the line opens in 2014, the journey between Epinay and Le Bourget will take 15 min. By 2018, journey time from Sartrouville to Noisy le Sec will be cut from 1½ h to just 35 min. A fleet of 38 tram-train vehicles will be deployed, running at speeds up to 100 km/h; 12 will be required for Phase I. Services will operate seven days a week between 05.00 and midnight, with a train every 5 min during peak hours and every 10 min at other times.

RFF and SNCF, which are jointly managing the project, expect the route to generate 18·4 million trips a year, with 10 000 passengers using the line each morning. SNCF is responsible for building the stations and the maintenance workshop at Noisy-le-Sec, and will part-finance the rolling stock.