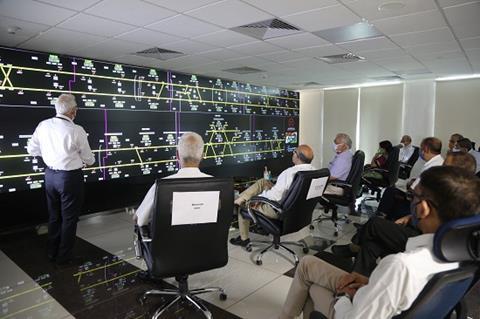 INDIA: Delhi Metro Rail Corp has unveiled a prototype version of i-ATS, an indigenous automatic train supervision system being developed under a programme to produce 'Make in India' communication-based train control technology.
The programme is intended to reduce significantly Indian metros' dependence on European and Japanese suppliers. Led by DMRC, it is backed by the government's strategic planning think tank Niti Aayog, the Ministry of Housing & Urban Affairs, Bharat Electronics Ltd and the Centre for Development of Advanced Computing.
The i-ATS prototype was unveiled on September 15, during the inauguration of a laboratory for developing other CBTC subsystems by Durga Shanker Mishra, Secretary at the Ministry of Housing & Urban Affairs. 'The way we have promoted indigenisation in the development of metros in the country, I am fully confident that this Indian system will also be sold outside, and we will be the leaders in this area as well', Mishra predicted.
'This is a very important step towards the development of an indigenous CBTC system', explained DMRC's Managing Director Dr Mangu Singh. 'I am sure that we will be able to work together and scale newer heights to completely indigenise metro railway construction as well as operations.'
DMRC is intending to use i-ATS for the upgrade of the Red Line and any future metro expansion. The technology has been designed to work with train control and signalling systems from different suppliers, and is also intended to be suitable for use by Indian Railways on the national rail network.
A memorandum of understanding has also been signed for the indigenous development of a cab simulator for training metro drivers in train operation and troubleshooting.