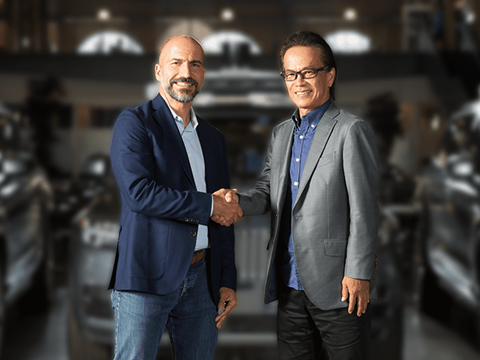 AUTONOMOUS CARS: Toyota Motor Corp announced on August 28 that it is investing US$500m in Uber Technologies, and the two companies had agreed to work together on ride-sharing using autonomous cars.
Under the agreement, both companies will use their technologies in purpose-built Toyota vehicles that would be deployed on Uber's ride-sharing network. These would be owned and operated by third-party autonomous fleet operators.
The initial Autono-MaaS fleet is to be based on Toyota's Sienna Minivan, and would incorporate Uber's Autonomous Driving System and the Toyota Guardian automated safety support system. It will also use Toyota's Mobility Services Platform information infrastructure for connected vehicles.
Subject to regulatory approval, the vehicles are expected to enter service in 2021.
'Combining efforts with Uber, one of the predominant global ride-sharing and automated driving R&D companies, could further advance future mobility', said Toyota Motor Corp Executive Vice-President Shigeki Tomoyama. 'This agreement and investment marks an important milestone in our transformation to a mobility company as we help provide a path for safe and secure expansion of mobility services like ride-sharing that includes Toyota vehicles and technologies.'