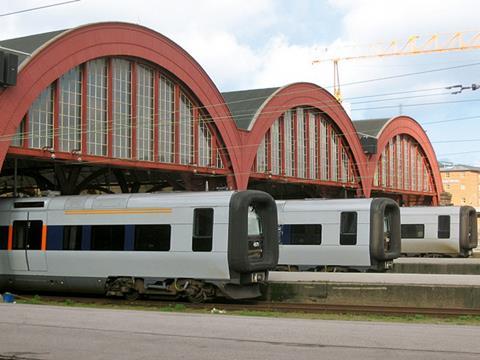 EUROPE: Alstom has been awarded a €35m contract to supply and install Atlas ETCS onboard equipment for the X31 Contessa electric multiple-units used on Öresundståg services in eastern Denmark and southern Sweden.
Alstom is to supply an integrated system enabling the EMUs to use legacy ATC-2 in Sweden and ZUB 123 in Denmark, as well ETCS Level 2 in both countries.
The project will be led by Alstom Sweden, working with its ERTMS centre at Charleroi in Belgium. Installation will be undertaken in København.
The EMUs are owned by Denmark's DSB (34 units), the Skåne, Blekinge and Halland local authorities (53) and the jointly-owned Swedish rolling stock leasing body Transitio (24). The agreement with Alstom covers equipping an initial 77 vehicles for commercial service by the end of 2023, with an option for the remaining 34.
Transitio has now procured ETCS onboard systems across its fleet, with Bombardier Transportation having been awarded contracts covering its Regina and Itino units, and the Stadler double-deck and Alstom Coradia X62 units having been fitted from new. There are currently no plans to equip the older X11, X12 and X14 units.