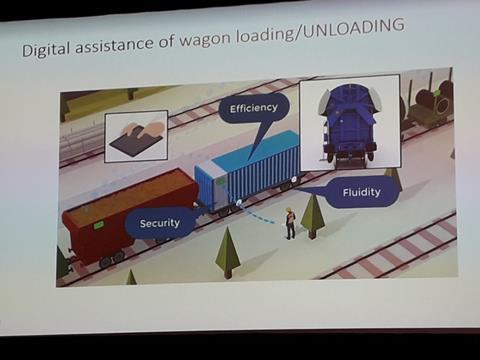 FRANCE: In a presentation at the Alpine Rail Optimisation conference in Wien on November 8 Director of Wagon Management at SNCF Fret Nicolas Czernecki confirmed that the operator had become the first railway in Europe to implement automated brake testing on commercial freight trains.
Under a pilot programme for bulk customer Novacarb, by the end of the year SNCF expects to have up to 150 wagons equipped with digital devices for use in three block trains on which automated brake testing will be in use.
At the heart of this development is a partnership between SNCF and digital start-up Traxens, based in Marseille. Florence Delalande, Business Unit Director – Rail at Traxens, described how the company and SNCF were able to develop and implement the project in less than two years. In what 'could not have been a more difficult process', Delalande said that 'the image in my mind' was that of 'climbing the north face of Everest'. 'We didn't know it was impossible, so we did it', she continued, noting that automation of the brake test process was just the first step in a much broader concept to develop digital freight train technology.
Traxens has fitted the wagons with remotely programmable digital devices which are connected wirelessly to sensors and actuators, allowing data to be transmitted within the train and to the cloud. The company says that around 5 000 wagons will be fitted by the end of 2018 and 15 000 by the end of 2019.
Known as a Traxens-BOX, the battery-powered device can be fitted to a wagon in around 15 min and does not require the wagon to be sent to a workshop. Once installed, the devices form a cluster, communicating with each other to elect a 'lead' device for transmission of data, based on its battery and communications ability, a process that Delalande described as 'mutualisation of energy'.
The technology is already in use with shipping containers where the sensors monitor a range of parameters such as temperature, humidity and sudden movements, allowing the customer to know the status of a consignment from any location. Delalande said that the shipping industry was supporting the adoption of the technology, the benefits of which are shared so 'everyone shares in the cost of the box to get value from it'.
Traxens is now working on a project to provide digital assistance for remote loading and unloading of wagons.