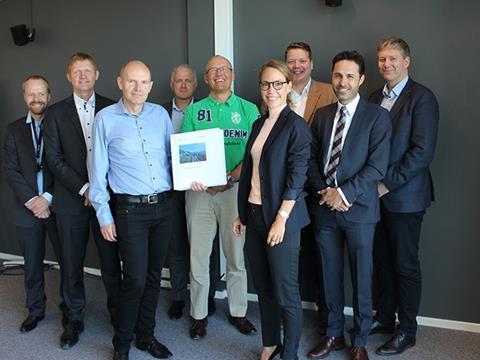 NORWAY: Infrastructure manager Bane NOR has finalised the contracts for Alstom to supply, install and maintain ETCS onboard equipment for use across the national rail network. Alstom had been selected as preferred bidder in mid-March.
The NKr1·8 bn package consists of three contracts with Bane NOR and framework contracts negotiated by the infrastructure manager on behalf of 14 different vehicle owners including Norske Tog, CargoNet, Flytoget and NSB. Together, they cover the installation of onboard equipment on 467 vehicles of 55 types, including locomotives, multiple-units and on-track plant.
Three contracts with Bane NOR were signed on May 25: the NKr300m General Application Phase contract covering the development and testing of onboard equipment and installation in three test trains, the NKr200m Specific Application Phase contract for conversion of Bane NOR's works machines, and the NKr50m Co-ordination Phase contract under which Alstom must ensure sufficient vehicles are ready for the commissioning of individual routes.
The vehicle owners were represented on May 25 by Norske Tog, which signed a NKr665m contract for the conversion of 274 trains. The remaining vehicle owners signed their contracts with Alstom at a joint event on June 5.
Installation work is to be undertaken in Norway, mainly at Bane NOR's workshops in Grorud and Marienborg. The first trains are due to be fitted in 2021, ready for ETCS operation on the first routes to start during 2022. The entire fleet is to be equipped by September 2026. The contracts also provide for Alstom to maintain the equipment for up to 25 years
Alstom will be providing a 'dual-system' version of its Atlas technology, equipping the trains to run in ETCS Level 2 or continue using Norway's legacy ATC-2 train protection system. According to the supplier, the software design will minimise the amount of hardware required by sharing key components, notably the balise antenna and the EVU onboard computer. Detailed design will be undertaken at Alstom's ERTMS centre of excellence in Charleroi, working with the project office in Oslo and the company's hardware development centre in Villeurbanne.
'Awarding the contracts for on-board equipment on the trains is a significant and important step forward in the digitalisation of Norwegian railways', said Bane NOR Executive Vice President Sverre Kjenne.