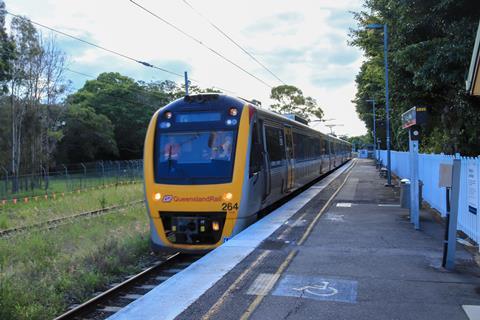 AUSTRALIA: Hitachi Rail has adopted 'over and back' switching principles to speed up the testing of digital train control systems being installed on the southeast Queensland rail network.
ETCS Level 2 operation is being introduced in conjunction with Brisbane's Cross River Rail project, which will see the reconfiguration of inner and outer suburban services over the next three years. The work is being delivered by the Sequence Signalling & Systems alliance including Hitachi Rail, Queensland Rail and the Cross River Rail Delivery Authority.
The ETCS lineside and onboard equipment is initially being trialled on part of QR's existing network pending completion of the cross-city tunnel.
Conventional testing requiring the manual disconnection of legacy signalling and the connection of the new systems can take several hours, meaning that the work has to be concentrated into longer blockades. Using 'over and back' principles can facilitate short periods of testing at night or weekends, before the line is handed back for operation using the legacy signalling.
Hitachi Rail's local team in Brisbane has developed an interface between the company's ETCS equipment and the existing interlockings, enabling a rapid changeover to be implemented using a central control unit at QR's Rail Management Centre.
'Our new "over and back" solution could potentially transform the testing process for new signalling systems being installed on brownfield sites', suggested Roslyn Stuart, Hitachi Rail's Senior Director for Australia.
Similar concepts have been used in the commissioning of other signalling technologies around the world. 'Over and back' testing was deployed during the installation of Trainguard MT CBTC on Hong Kong's East Rail Line by Siemens Mobility in 2012-21.