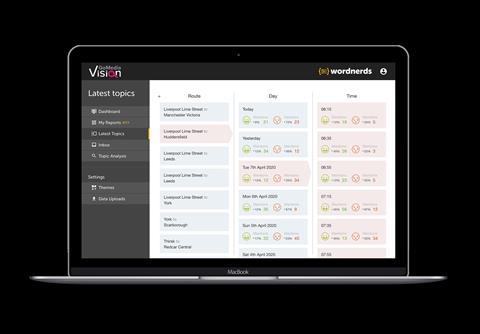 FEEDBACK: On-train infotainment provider GoMedia is to use sentiment analysis software from Wordnerds to help train operators make sense of passengers' comments in social media posts, online reviews, surveys and forums.
'We are developing a range of digital solutions to give operators timely data, so that they can monitor trends and identify emerging issues, reacting in real time to provide better outcomes', explained GoMedia Managing Director Roger Matthews.
Wordnerds' tools aim to understand the meaning behind sentences, rather than counting the frequency of individual words. This should provide a more accurate understanding of passenger tastes than traditional measuring methods.
In the rail sector, the tool combines passenger feedback from specific trains to deliver granular and actionable insights about individual services in real time, helping operators track how satisfied their customers are across each journey.
'We combine cutting-edge AI with old-school linguistics to train computers to understand the huge volume of unstructured text that is currently online and is challenging for most companies to sift through', said Wordnerds CEO Pete Daykin. 'Through our partnership with GoMedia, transport operators will be able to more accurately see how their passengers feel, as they benchmark their performance by tracking topics and monitoring sentiment over time.'
UK train operators already using Wordnerds' technology include Govia Thameslink Railway, LNER and TransPennine Express.