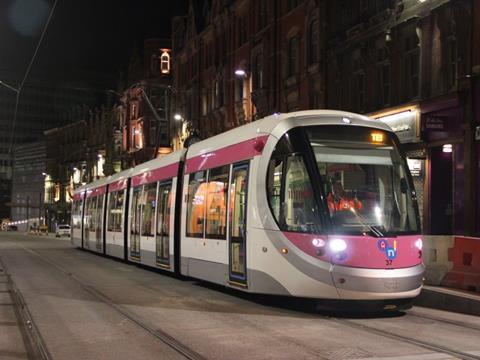 UK: West Midlands transport agency Centro started test runs on Midland Metro's New Street tram extension in central Birmingham on April 24, ahead of the planned opening on May 22.
Test running followed electrical systems testing to ensure that the trams do not interfere with main line railway systems at New Street station and vice versa. The two-stop extension from Bull Street to New Street via Corporation Street forms the second phase of the light rail line's 1·4 km city centre extension. The first phase, from Snow Hill to Bull Street, opened on December 6.
A further extension would take the line from New Street to Centenary Square; utility diversion has already started on this section, which is due to open in 2019. Further extensions at both ends of the line are planned.
Centro and tram supplier CAF signed a contract on April 1 for the entire Midland Metro fleet to be retrofitted with batteries.