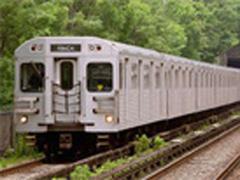 CANADA: A ground-breaking ceremony on November 27 launched work on the first phase of an extension to Toronto's Yonge - University - Spadina subway line.
The first phase covers a link from Wilson yard to the main route of the planned 8·6 km extension from Downsview to Vaughan Corporate Centre, which will take the metro beyond the City of Toronto boundary for the first time.
The project is being financed with contributions from the federal (C$697m), provincial (C$870), city (C$526m) and regional (C$352m) authorities, which Mayor of Toronto David Miller said was an unprecedented example of co-operation. Main construction works will begin in 2010, with opening of the six new stations planned for 2015.
The mayor used the event to promote the Downtown Relief Line, a proposed U-shaped line starting at Dundas West station on the Bloor-Danforth subway and looping through Toronto's main business district before returning to the Bloor-Danforth line at Pape. He said this should be given a higher priority than the Yonge subway extension, which is favoured by regional transportation agency Metrolinx and the province of Ontario. However, neither is expected to be built for many years because of funding constraints.