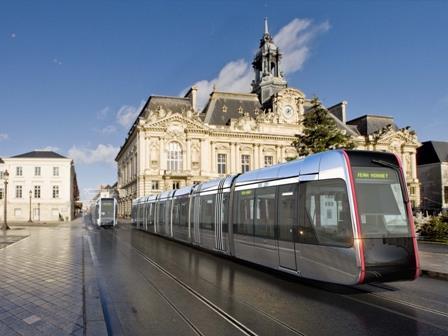 FRANCE: Tours transport authority SITCAT has awarded Alstom a €73m contract to supply 21 Citadis trams fitted with APS ground-level power supply to work the city's tram line now under construction.
Enabling works have just started on the €369·1m project, which is due for completion in September 2013. Finance has been secured from local, regional, national and European sources and includes €40·2m allocated in May 2009 under the French government's Grenelle de l'Environnement initiative.
The 15 km route with 29 stops will run from Lycée Vaucanson in the north via the city centre and the Joué lès Tours to Lycée Jean Monnet in the south. Catenary-free operation will be used for 1·8 km between Place Choiseul and Tours station. Construction of a depot at the northern end of the route should start in May 2011.
The first car is due to be delivered in July 2012. The low-floor vehicles will be 43 m long and 2 400 mm wide with space for 380 passengers. Alstom's styling agency RCP has proposed a 'mirror-like' outer cladding designed to reflect the surrounding urban environment, while the front section will express the 'general concept of a cursor' with two luminous vertical strips aligned with the rails.
When the line opens, trams will run every 5 or 6 min between 05.00 and 01.00 offering an end-to-end journey time of 47 min. Estimated ridership is put at 55 000 passengers/day.