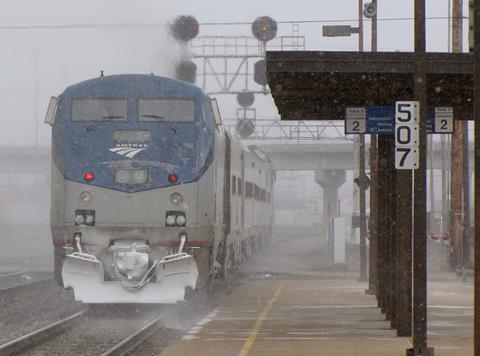 USA: Work began on September 9 on the first element of a three-stage programme to raise speeds over 50 km of mixed-traffic railway in Michigan as part of a wider initiative to accelerate passenger services between Detroit and Chicago.
Much of the work will focus on track renewals between Jackson and Detroit, which largely falls within the 217 km section between Kalamazoo and Dearborn which Michigan Department for Transportation acquired from Class I railroad Norfolk Southern for $140m in 2011.
The upgrading is intended to add to introduce a further section of 177 km/h operation for Amtrak's Blue Water and Wolverine services; these trains already achieve higher-speed operation elsewhere on Amtrak-owned tracks in western Michigan and Indiana. In conjunction with Illinois and Indiana, MDOT is leading a joint initiative to reduce journey times on the corridor between Detroit and Chicago by around 2 h from the present 6 h 30 min.
'Unlike past projects to make needed repairs, this track improvement work is an upgrade to the route owned by the state of Michigan', said Tim Hoeffner, Director of the Rail Office at MDOT. 'Passengers will feel the difference, and they and freight shippers will experience even higher reliability across the route.'