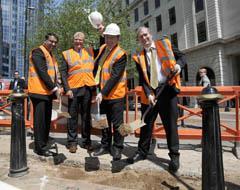 UK: Work on the extension of the Midland Metro light rail route that will link Snow Hill and New Street stations in the centre of Birmingham was launched by Transport Minister Norman Baker on June 13. With utility diversion now underway, the 1·4 km route running via Bull Street and Corporation Street is due to open in 2015 and is expected to carry over 3·5 million passengers a year.
Baker said that the extension would 'cut congestion, improve air quality and be a real boon for the local economy by creating 1 300 new jobs. This is an example of the kind of infrastructure project we need to help boost growth around the UK and that is why I am pleased that we have been able to contribute £75m towards the cost of the scheme'.
'The start of work on the Metro extension is a real milestone in the transformation of our city's transport system', said Councillor Jon Hunt, Vice-Chairman of West Midlands transport authority Centro. 'It will not only bring jobs and increase economic activity but it will also help to create a much-improved shopping environment'.
The extension forms part of a £127m package that also includes a new tram fleet and related depot enhancement works, which should enable services to operate every 6 min on the route between Birmingham and Wolverhampton. CAF is to supply 20 Urbos 3 vehicles for £40m to replace the current fleet of 16 Ansaldo cars.