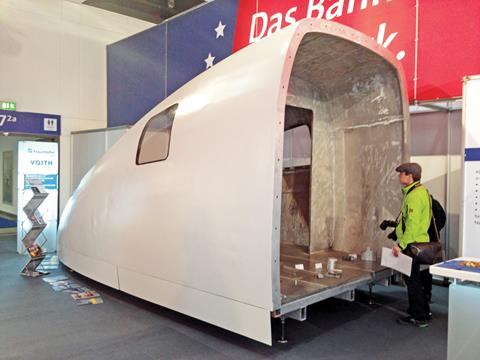 FRAUNHOFER: The Fraunhofer Institute for Machine Tools & Forming Technology has produced a demonstration high speed train cab assembled from aluminium foam components, to highlight the potential applications of the strong but lightweight material.
The aluminium foam material comprises a metal sandwich, with top and bottom external layers separated by a core which has been heat treated to produce a low-density foam layer with a rigid sponge-like structure. The core and external layers are part of the same metal components, and so will not separate.
According to Fraunhofer, the foam provides the low weight of composite materials, but is self-supporting and so does not require the heavy metal frames required by GRP. The metal foam offers good mechanical properties, fire protection, fatigue strength and weldability, with a 20% weight saving compared to a more traditional metal cab.
The initial interest in the use of aluminium foam for rolling stock applications came from a Chinese manufacturer which was looking to increase the ability of high speed train cabs to withstand bird strikes.
Voith Engineering services was responsible for conception and load capacity development, KUKA Systems for tool and process development and forming, MFPA Leipzig for material characterisation, and Fraunhofer IWU for tool and process development and foaming.