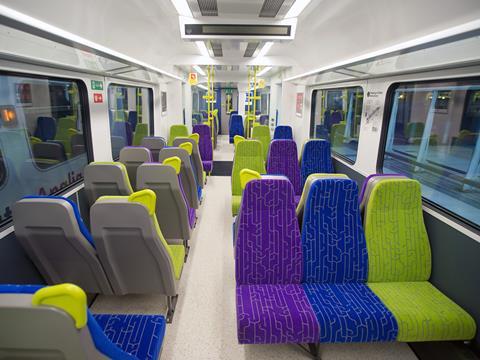 UK: Leasing company Eversholt Rail has awarded Wabtec a £60m contract to refurbish its fleet of Class 321 outer-suburban electric multiple-units, under a programme which is designed to provide 'maintainability, cost effectiveness and the look and feel of a new train'.
The contract signed on May 28 covers engineering development for the refurbishment programme, and the overhaul of an initial batch of 30 four-car units which are due to return to service between spring 2016 and late 2017. Work is to be undertaken by a dedicated production facility at Wabtec's Doncaster site.
Eversholt and Wabtec have been working since July 2014 to develop a Class 321 refurbishment concept. This has included the production of a demonstrator unit with two styles of interior which was used to gather operator and passenger feedback over 15 months in service.
Eversholt has branded the refurbished Class 321 as Renatus, Latin for 'born again', 'to reflect the scale of reinvention and transformation that will be achieved' by the programme.
The EMUs to be refurbished are currently leased to Abellio Greater Anglia. They are not committed for use beyond the end of the current franchise in October 2016, but Eversholt said it is 'investing in the fleet to ensure they are available to serve passengers on day one of any new franchise.'
The contract is designed to facilitate the upgrade of all of the leasing company's Class 321 EMUs as the government's rail franchising programme proceeds, and to meet the requirement for all rolling stock to comply with PRM TSI by the end of 2019.