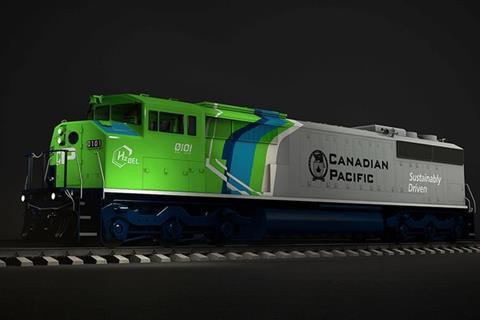 NORTH AMERICA: A collaboration to convert diesel locomotives to hydrogen fuel cell power has been announced by Canadian Pacific Kansas City and CSX.
A prototype hydrogen-powered main line locomotive which CP developed in-house by retrofitting a diesel locomotive with fuel cells and batteries has now operated for more than 1 600 km in revenue service, and a second loco for yard use is expected to enter service later this year.
Under the collaboration announced on June 22, CSX plans use the hydrogen conversion kit developed by CPKC to convert an initial diesel loco at its workshop in Huntington, West Virginia. 'This exciting initiative will greatly benefit from the expertise of CSX's advanced, large-scale facilities, where the locomotives will be built', said CSX President & CEO Joe Hinrichs.
CPKC President & CEO Keith Creel said 'this innovative collaboration expands our hydrogen locomotive programme beyond a single railroad and represents an exciting next step in proving the long-term viability of hydrogen as a solution to emissions reduction for our industry.
'Our hydrogen locomotive went from concept to reality in 24 months with the first zero emissions hydrogen locomotive having already pulled freight in revenue service.'