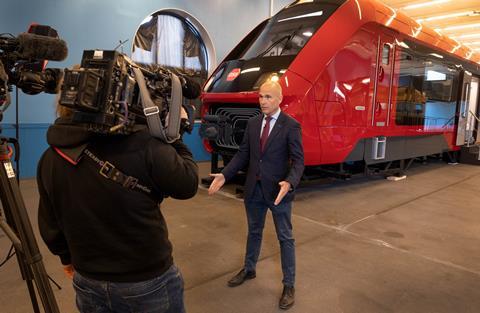 DENMARK: National passenger operator DSB has unveiled a full-size mock-up of the IC5 Coradia Stream multiple-units which Alstom is to supply to replace IC3, IC4, IR4 and Øresund trainsets on inter-city and regional services.
The IC5 design combines 'innovation, sustainability and great passenger comfort in the best possible way', said Emmanuel Henry, Managing Director of Alstom in Denmark. 'The details of the train are customised for Denmark, so there is no train like this elsewhere.'
Framework contract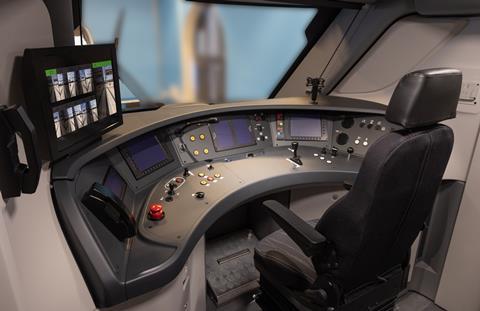 DSB and Alstom signed a €26bn framework agreement in 2021 covering the supply of at least 100 electric multiple-units in 2025-29 and the provision of 15 years of full-service maintenance.
Following its experience with the troubled AnsaldoBreda IC2 and IC4 DMU fleets, DSB was seeking a proven design. The IC5 trains will be from Alstom's Coradia Stream family, which enables operators to choose the best configuration for their market and commercial strategy. The manufacturer reports that more than 1 000 Coradia Stream units have now been ordered by customers in the Netherlands, Luxembourg, Italy, Spain, Romania and Denmark.
The IC5 mock-up will be used to validate the design with stakeholders including customer and staff representatives. Minor changes are envisaged before the design is frozen and production begins.
Design features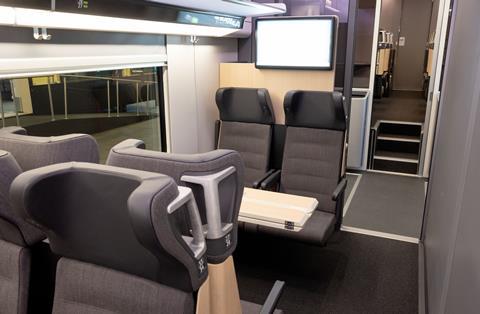 The 200 km/h five-car 25 kV 50 Hz EMUs will have 300 seats, with low entrances, areas for bicycles and prams and more luggage space and information screens than DSB's existing trains. Each set will have three toilets, with one being wheelchair accessible.
Alstom said the priority is to offer 'an exceptional travel experience and comfortable seating'. Features include wide tables, and reclining seats with individual armrests, reading lights and charging points. Danish design traditions have inspired the seat fabric with a high proportion of wool.
'The new trains, together with the electrification of the railway and the digital signalling system, are helping to create a much-needed modernisation of the Danish railway, where speed and comfort will be higher', said Transport Minister Thomas Danielsen when the mock-up was unveiled in København on May 11. 'The train's entry height makes it easier for passengers with a disability or a pram to get in and out. There is something to look forward to for all passengers.'