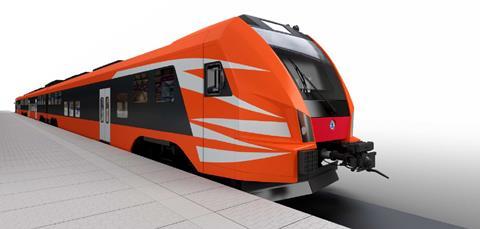 ESTONIA: Passenger operator Elron has selected Škoda Vagonka as the winner of a contract to supply six dual-system electric multiple-units for use on the Tallinn – Tartu route from the end of 2024.
The contract is worth €55·2m, including the provision of spare parts for the first five years of operation, and there is an option for Elron to order a further 10 of the EMUs.
The Tallin end of the 1 520 mm gauge route is currently electrified at 3 kV DC, and electrification of the remainder of the route at 25 kV 50 Hz is scheduled for completion by December 2024.
'The new trains will contribute greatly to increasing the environmental friendliness of our transport connections, and launching those trains will hopefully also alleviate the current load on one of the most popular lines in Estonia', said Elron Chairman Merike Saks on October 29.
'The new trains will have more seats in economy class, as well as in the first class area, which is separated from the economy class by a door. Feedback from customers was taken into consideration, notably a requirement that all seats should be softer and more comfortable.'
There will be more spaces for wheelchair users, pushchairs and bicycles, and some of the seats will be removable to provide additional space for bicycles in the summer months.
The trains will also have a buffet, although with the journey time of around 2 h expected to be reduced when the trains enter service, the catering will be limited to hot drinks and light snacks.
Stadler had also submitted a bid for the contract, which was awarded on the basis of 11 criteria, including cost, specifications, energy consumption, maintenance costs, the number of seats and acceleration. Škoda's tender was judged to be the best in terms of overall and operating costs.