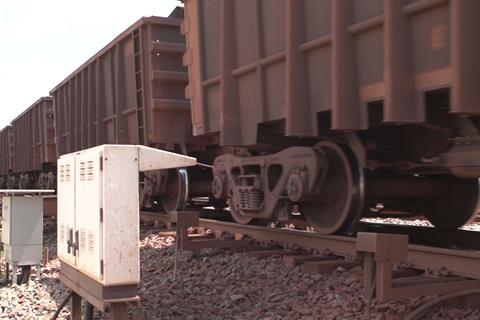 BRAZIL: Progress Rail has announced EMD Joule, a lithium-ion battery shunting locomotive which it hopes to make available to the global market in early 2021.
The Caterpillar subsidiary is working with mining group Vale to develop the 100% electric locomotive, in a project which has brought together Progress Rail and Vale engineering teams in both Brazil and the USA. Manufacturing is being undertaken at the Progress Rail plant in Sete Lagoas.
The 3 000 hp shunter will have a battery capacity of 1·9 MWh, with option to increase this up to 2·4 MWh. It would be able to operate for up to 24 h between charges, subject to utilisation.
'Our team has taken great pride in this exciting project, working closely with Vale to deliver a new advanced technology battery locomotive in approximately 11 months', said Marty Haycraft, President & CEO of Progress Rail on July 28. 'We look forward to continuing to support our entire global customer base with innovative products and services to help them meet their operating and environmental objectives.'
Pilot operation is expected to start this year, ahead of regular service at Vale's Tubarão Complex at Vitória in the state of Espírito Santo; according to Vale this is the biggest railway yard in Latin America.
The battery locomotive development forms part of Vale's PowerShift programme to reduce its greenhouse gas emissions by 33% from the 2017 level by 2030 and become carbon-neutral by 2050. The company operates 2 000 km of railways, which it calculates account for almost 10% of current emissions from sources which are under its own control or related to the generation of electricity it purchases.
If the battery loco technology proves to be feasible, it would contribute to a reduction in emissions by facilitating the replacement of diesel fuel by electricity generated from renewable sources. Quieter operation would also reduce the impact of rail activities on local people
Gustavo Bastos, executive manager at Vale's Innovation department, said the EMD Joule 'represents a milestone in Vale's operations decarbonisation strategy and is aligned with its new pact with society.'