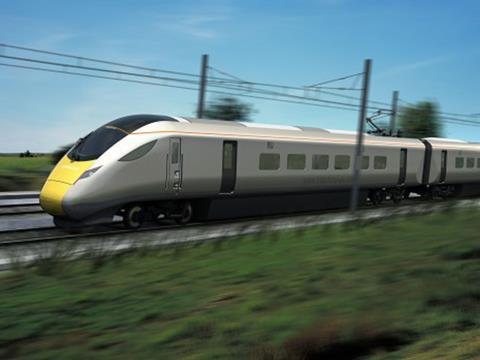 UK: Financial close on the £2·7bn contract for 65 Hitachi Super Express Trains to operate on the East Coast Main Line was announced on April 16.
The trainsets are being procured from the Agility Trains consortium of Hitachi Rail Europe and John Laing under the Department for Transport's Intercity Express Programme, which includes financing, design, manufacture and maintenance over a 27½ year period.
The ECML order covers 497 cars due to enter service between September 2018 and February 2020, to be maintained at a new depot at Doncaster. The deal is being financed by the European Investment Bank which is providing £235m, as well as Japan Bank for International Cooperation, Bank of Tokyo Mitsubishi UFJ, Development Bank of Japan, HSBC, Lloyds, Mitsubishi Trust, Mizuho, Sumitomo Mitsui Banking Corp, Société Générale and Crédit Agricole. The operators of the new fleet will make leasing payments totalling £2·7bn over the duration of the contract.
An initial batch of 369 coaches is due to begin entering service on the Great Western Main Line from 2017, under a contract signed by DfT and Agility Trains in 2012.
'We are delighted that the success of the programme to date has attracted interest by world-class financiers and we look forward to building these trains in our new manufacturing plant in County Durham', said Hitachi Rail Global CEO Alistair Dormer.