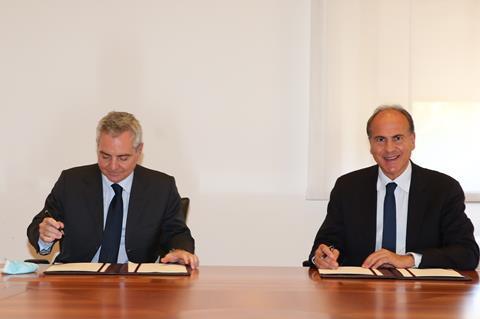 ITALY: The European Investment Bank agreed a €450m financing package on July 23 which will support Trenitalia's plans to order 135 electric-diesel-battery hybrid regional multiple-units at total cost of €960m.
The three-car and four-car units are to be used in regions including Calabria, Lazio, Molise, Toscana and Valle d'Aosta, as well as in Sicily and Sardinia. They will use conventional overhead electrification where available, with 'cutting-edge' engines for operation onto non-electrified routes as well as batteries to eliminate emissions for the 'last mile' and in urban areas.
An initial €150m tranche of the financing has been finalised via the subscription of a corporate bond under FS Group's Euro Medium Term Note programme. This will finance an order for 43 hybrid trainsets from Hitachi's Caravaggio (branded Rock by Trenitalia) family which was announced in January.
'This major financing continues our investment plan to renew the regional train fleet, which remains one of our top priorities', said FS Group CEO Gianfranco Battisti. 'The new trains will be environmentally sustainable and of a very high standard, enabling another step forward in changing commuters' travelling habits in Italy. We also expect the renewal of Trenitalia's regional fleet to make it possible to reduce CO2 emissions by 600 million tonnes a year and take 400 000 cars off Italian roads.'
EIB said the agreement was in-line with its status as a climate bank, and its aim to mobilise €1tr in investment to tackle climate change in 2020-30.