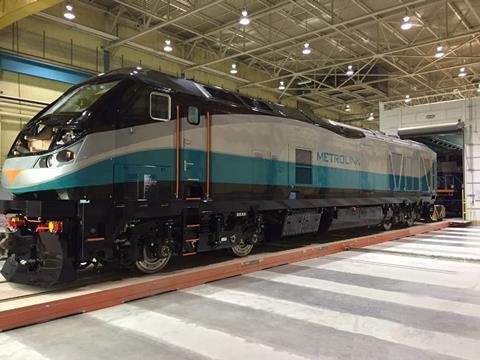 USA: The first F125 diesel locomotive for Los Angeles commuter rail operator Metrolink is nearing completion at the Electro-Motive Diesel plant in Muncie, Indiana, the operator announced on January 20.
Designed for operation at up to 200 km/h, the F125 is EMD's first new design of passenger diesel locomotive for more than 20 years. The streamlined monocoque bodyshells incorporating crash energy management collision protection are being manufactured in Spain by Vossloh Rail Vehicles (now part of Stadler Rail), and fitted out in Muncie.
The AC-motored locomotives are powered by a Caterpillar C-175 20-cylinder four-stroke engine rated at 4 700 hp. To meet the Tier 4 exhaust emissions standards, they are equipped with urea-based selective catalytic reduction.
Southern California Regional Rail Authority ordered an initial batch of 20 locomotives in June 2013, supported by a US$52m grant from the South Coast Air Quality Management District. Last year it ordered a further nine using a state grant of $41·2m allocated under Transit & Intercity Rail Capital Program from the Greenhouse Gas Reduction Fund.
Metrolink's fleet plan envisages up to 40 locomotives at a total cost of approximately $280m, with the remaining options to be exercised as funding becomes available. In September the SCAQMD board approved a further $22·8m grant for Metrolink, with provision for another $36m in future.
The F125s will be equipped for single or multiple operation on commuter or inter-city services. Metrolink plans to deploy them with its Hyundai Rotem-built double-deck coaches. The first locomotives are expected to enter revenue service towards the end of this year, with the extra nine to be delivered by the end of 2017.