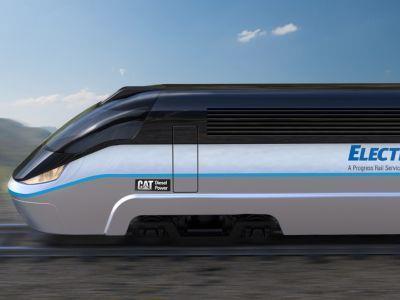 USA: Electro-Motive Diesel announced the development of a 200 km/h 'next generation' diesel passenger locomotive for the North American market at APTA Expo 2011 in New Orleans on October 3. The design is being produced on a speculative basis, and a prototype is to be rolled out during 2014.
The four-axle diesel-electric locomotive will have 'streamlined' styling, including a prominent roof-level headlight for a 'classic' American look. The body will incorporate a high level of collision protection, and the microprocessor-controlled onboard equipment will be designed for 'mission completion' with predictive and diagnostic capabilities and no single point of failure.
The engine has not yet been finalised, but will be from the Caterpillar range; it will be compliant with the EPA Tier 4 emissions regulations which come into effect for new locomotives from 2015.
Meanwhile, EMD is no longer actively developing the 66EU, which was to have been an updated version of its popular Class 66 freight locomotive specifically adapted for the Continental European market.