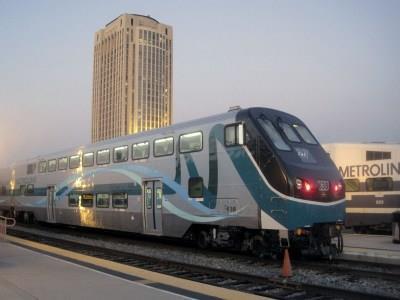 USA: Wabtec Corp announced on March 22 that it had signed a $27m contract to provide equipment and services for the implementation of Positive Train Control on the Metrolink commuter rail network radiating from Los Angeles.
The contract has been awarded by Parsons, which was selected by the Southern California Regional Rail Authority in 2010 to manage PTC implementation across its 824 route-km network.
Wabtec will provide its Vital Electronic Train Management System, including Commlink and Train Trax equipment, to fit 109 locomotives and push-pull driving cars. The company will also provide back office engineering and systems integration support, as well as enhanced locomotive simulators for driver training.
Metrolink has selected V-ETMS in order to ensure compatibility with the BNSF and UP networks over which its trains operate. The project will be the first use of interoperable PTC equipment by a commuter rail operator under the federal Rail Safety Improvement Act of 2008. Metrolink's objective is to complete the system-wide implementation of PTC by the end of 2012, three years ahead of the deadline set by the federal mandate.
'We're pleased to be working with Metrolink, Parsons and other industry suppliers on this important project', said Wabtec President & CEO Albert J Neupaver. 'As PTC technology is deployed by other transit agencies around the US over the next several years, Wabtec expects to play a significant role in the process.'
Read about the latest developments in the US Positive Train Control programme in the March 2011 issue of Railway Gazette International, available to subscribers in our digital archive.