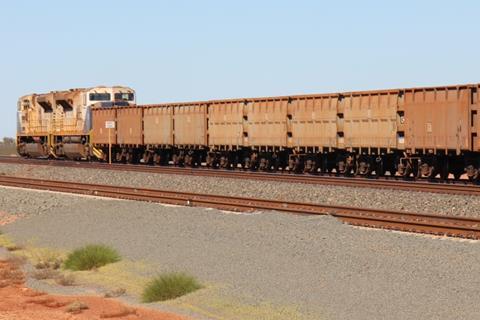 AUSTRALIA: Mining company Fortescue and its recently acquired Williams Advanced Engineering business have announced plans for the Infinity Train, which is intended to capture regenerated energy from loaded downhill runs and store it to power the returning empty trip.
'The Infinity Train has the capacity to be the world's most efficient battery electric locomotive', said Fortescue CEO Elizabeth Gaines when the acquisition of UK-based WAE was completed on March 1. 'The regeneration of electricity on the downhill loaded sections will remove the need for the installation of renewable energy generation and recharging infrastructure, making it a capital efficient solution for eliminating diesel and emissions from our rail operations.'
Fortescue founder and Chairman Dr Andrew Forrest said Infinity Train 'will not only accelerate Fortescue's race to reach net zero emissions by 2030, but also lower our operating costs, create maintenance efficiencies and productivity opportunities'. It would also help to position Fortescue Future Industries as a major player in the world market for green industrial equipment, he anticipated.
'The commercial opportunities are obvious for FFI as it pioneers this technology, captures its value and distributes it globally', he said. 'Less obvious, is that we have an opportunity to not only lower our operating costs, eliminate the cost of diesel from our company but of course eliminate our rail system carbon emissions.'
Fortescue's iron ore rail network in the Pilbara region of Western Australia is currently operated by a fleet of 54 diesel locomotives. These haul 16 rakes of 244 wagons which are 2·8 km long with a capacity of 34 404 tonnes of ore per trip. Its rail operations consumed 82 million litres of diesel in FY2021, accounting for 11% of its Scope 1 emissions.
Development of the Infinity Train is expected to cost US$50m over the next two years, which will be classified as operating cost efficiencies.