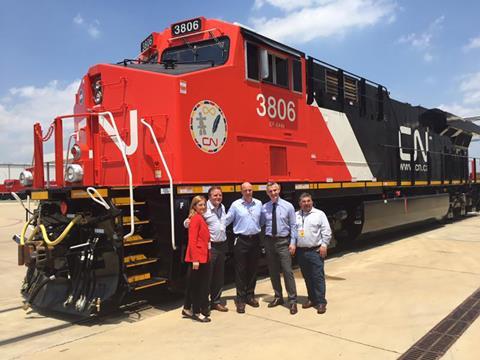 CANADA: The first of 200 diesel locomotives which are to be supplied to CN under a multi-year purchase agreement has been completed at GE Transportation's plant at Fort Worth in Texas.
GE said the deal signed in December 2017 was the largest locomotive contract which a Class 1 railway had awarded to any manufacturer since 2014. The terms enabled CN to secure the timing, pricing and EPA Tier 3 and Tier 4 emissions certification for the locos which are to be delivered over three years, with the flexibility to purchase additional locomotives. The agreement includes the training of maintenance staff, and guarantees for reliability, fuel consumption and out-of-service intervals.
'These new locomotives are evidence of CN's commitment and investment to expand capacity for all of its customers', said Jim Hilderhoff, Chief Commercial Officer of GE Transportation, when the first locomotive was unveiled on June 5. 'The Evolution Series locomotives will provide the digital capabilities, efficiency, reliability and tractive effort CN requires to successfully meet the growing market demands and support future growth. These beautiful machines will help CN with their robust freight needs moving more than US$250bn worth of goods annually across their approximately 19 600 route-miles [31 400 km]'.
The delivery of the first locomotive was 'a testament to our commitment to investing for the long haul', said CN's interim President & CEO JJ Ruest. 'More locomotives, combined with more conductors, help us serve our clients better, faster, and with fewer emissions than other modes of long haul transportation.'