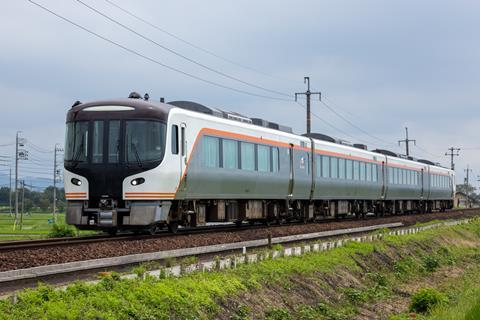 JAPAN: Central Japan Railway is to replace its 'Wide View' Series Kiha 85 diesel multiple-units dating from the late 1980s and early 1990s with a fleet of Series HC85 hybrid multiple-units comprising 64 vehicles in total.
Following tests with a four-car prototype built by Nippon Sharyo in 2019, the new fleet is due to enter service on July 1 with all cars delivered by March 2024.
Series HC85 sets will replace the Kiha 85 DMUs on Hida Limited Express services from Osaka, Kyoto and Nagoya to Takayama and Toyama and Nanki Limited Express services linking Nagoya with Shingu and the hot spring resort of Kii-Katsuura in Wakayama Prefecture. The distance from Nagoya to Toyama for the 11 Hida services a day each way is 256 km and the Nagoya – Kii Katsuura distance for the four daily Nanki services in each direction is 246 km.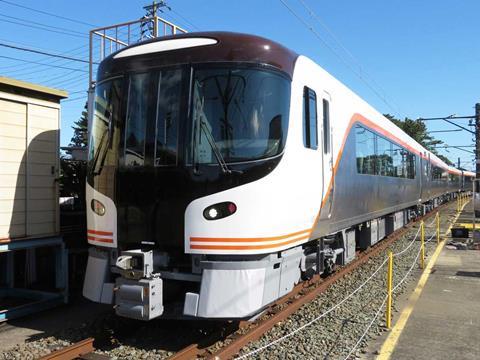 All four cars in each HC85 set are powered, the prime mover being a 450 hp six-cylinder horizontally-mounted diesel engine with direct injection. This drives bogie-mounted 145 kW permanent magnet traction motors and 245 kW permanent magnet synchronous main generators ― this is understood to be Japan's first rail application of fully-enclosed permanent magnet synchronous motors and generators other than on experimental or test trains. Maximum speed is 120 km/h, the highest for a hybrid trainset in Japan.
A 40 kWh battery pack is incorporated in the driveline, this being the largest battery capacity on a Japanese hybrid trainset to date. The batteries are charged during regenerative braking and the diesel engines are switched off when the train is stationary to reduce noise and emissions; electricity stored in the batteries is used during acceleration and when the train is stationary, which improves fuel efficiency by approximately 15% and reduces emissions such as CO2 and NOx. Reports from test runs indicated that the HC85 sets are considerably quieter than the Kiha 85 sets they are replacing.
All traction equipment is mounted below the floor and has been designed to reduce the size and weight of components. Seating capacity is 210, of which 36 are in green car.
In common with the 65 Series 315 electric multiple-units being built by Nippon Sharyo for JR Central's local services around Nagoya and Shizuoka, Series HC85 will feature real-time monitoring of the status of onboard equipment.
The Data Integrated monitoring and ANAlysis (DIANA) system fitted to the HC85 and Series 315 fleets uses LTE communications to send data to servers on the lineside, enabling defects and failures to be observed, identified and potentially remedied before a disabling failure. The data is automatically analysed and rolling stock depots notified as required.
DIANA is also designed to monitor temperature and humidity in the passenger saloons in relation to occupancy levels, and it uses artificial intelligence to learn and control the various functions, making adjustments in real time. Use of DIANA for control of the passenger environment on Series 315 sets began on March 5, with full application of data monitoring and analysis due to become effective from April 1.
Series HC85 four-car hybrid multiple-unit for JR Central
Track gauge mm
1 067
Car length mm
21 300
Car width mm
2 918
Car height above rail top mm
3 640 (centre cars)/3 750 (driving cars)
Traction
4 x 450 hp diesel engines and 40 kWh batteries
Passenger capacity
Kumoha 85-0 car
56 seats
Moha 84-0 car
50 seats
Moha 84-100 car
68 seats
Kumoro 85-0 car
36 seats (green car)
Supplier
Nippon Sharyo