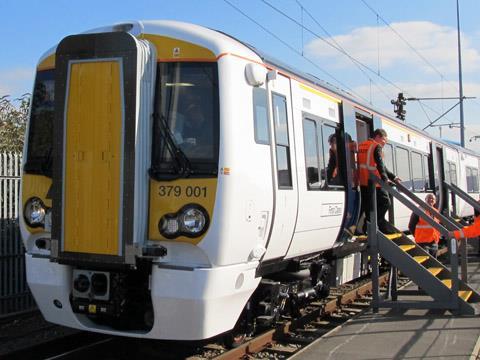 UK: Laboratory testing has confirmed that lithium iron magnesium phosphate batteries from US firm Valence Technology meet the requirements for use on the demonstration Independently-Powered Electric Multiple-Unit, which is being developed by infrastructure manager Network Rail, Bombardier and train operator Greater Anglia.
It is envisaged that overhead/battery-powered IPEMUs could operate on short, diesel-worked branch lines on otherwise electrified parts of the network. An experimental unit is being developed for trials to help determine whether any future IPEMU should be a straight battery or overhead/battery 'hybrid' unit.
The Valence batteries were subjected to tests simulating the conditions which would be experienced in service. These included 'intensive' branch line round trips with 8 h of continuous running, as well as 'extreme' range, speed and temperature tests.
Network Rail said other battery technologies, including hot sodium nickel salt, continue to be reviewed. 'It's taken a lot of hard work to get this far', said James Ambrose, Network Rail's IPEMU Senior Engineer. 'As well as testing the batteries under simulated journey conditions, we've needed to get the donor train gauge cleared for the routes the train has got to run on and gain a certificate of rolling stock/infrastructure compatibility.'
Bombardier's Derby plant is to convert a Greater Anglia Class 379 Electrostar EMU to run on battery power as well as 25 kV 50 Hz overhead for the IPEMU tests.
'Developing a battery technology in close collaboration with our supplier chain and with Network Rail has underpinned progress to date,' said Bombardier's IPEMU Engineering Project Manager Marc Phillips. 'The lab testing put confirmation to our theoretical simulation work' and the Bombardier engineering team has been extremely active in developing in parallel the necessary changes required to convert a Greater Anglia Class 379 to provide a test bed to allow the concept to mature on train.'