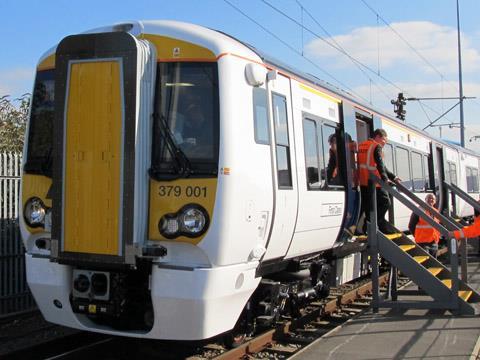 UK: A Bombardier Electrostar electric multiple-unit leased by Greater Anglia is to be fitted with two types of battery to study the feasibility of operating electric trains on non-electrified lines.
Infrastructure manager Network Rail envisages that Independently Powered Electric Multiple-Units could be used to bridge gaps on otherwise electrified routes, or could be deployed on branch lines which it would not be cost-effective to electrify.
Bombardier is to fit the Class 379 EMU with lithium (iron magnesium) phosphate and hot sodium nickel salt batteries as a test bed to determine future requirements. The EMU would then undergo testing 'off network', including on the Old Dalby test track. If successful, the train would then operate in passenger service with the pantograph lowered on an 'electrified branch line on the Anglia route, yet to be chosen'. The testing would be carried out on a 25 kV 50 Hz electrified line so that conventional power can be used if a problem occurs.
Following the trials, the EMU would be restored to its conventional condition and returned to normal service by the end of 2014. The research partners expect that any future production IPEMU would be designed from new rather than adapted from a conventional EMU, to minimise energy consumption.
The project is being funded by Network Rail, the Department for Transport and the Enabling Innovation Team hosted by the Rail Safety & Standards Board. 'As the principal funder and delivery manager, we have done a great deal of feasibility work before reaching this stage, both to define the outputs we seek from the trial and to build confidence in the project across the industry', said Network Rail's Director of Network Strategy & Planning, Richard Eccles.
David Clarke, Director of the Enabling Innovation Team, said onboard energy storage 'is a typical example of a development that's good for passengers, taxpayers and the long term future of the railway but where it is difficult for individual businesses to make the business case to invest in the technology. To help prove the business case we are funding up to 30% of the technology demonstration. We see the IPEMU project as a good example of something that will work according to the R&D but no one will invest in without seeing a full scale demonstrator. By supporting this programme we are helping to take innovation out of the lab and de-risk its potential introduction onto the railway.'