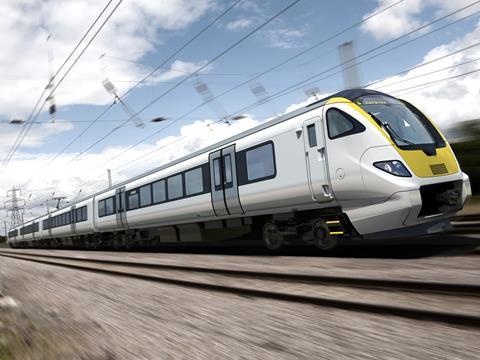 UK: A contract for leasing company Angel Trains and Commonwealth Bank of Australia to finance a £900m order for 665 Bombardier Transportation electric multiple-unit cars for use on Abellio's new East Anglia franchise was signed on September 29.
Angel Trains said the 'largest rolling stock deal since the privatisation of UK rail' builds on its ongoing relationship with CBA and 'further establishes the bank's credentials in the rail industry'.
The deal covers 22 10-car and 89 five-car suburban EMUs which are to be built at Bombardier's Derby plant, providing a 'stable long-term workload' for more than 1 600 employees.
The Department for Transport had named Abellio as the winner of the franchise on August 10, but the signing of the rolling stock deal was held up when Siemens announced a legal challenge to the order. Abellio told Railway Gazette 'the parties have agreed to confidentially conclude their dispute', and Siemens and Abellio are 'now looking to the future with a strong and positive relationship'.
Abellio expects that a separate contract for the financing of 378 Stadler multiple-units cars will be signed imminently.
'We are pleased to have finalised the agreement with our financier Angel Trains that is part of the largest-ever privately-procured train order in the UK', said Dominic Booth, Managing Director of Abellio UK. 'It will give the people of East Anglia high quality trains as part of an ambitious transformation of the region's railway. '