MOLDOVA: The first six of 12 TE33AC diesel locomotives which national railway CFM ordered from GE Transportation, now Wabtec, in 2018 are currently being delivered from the LKZ factory at Nur-Sultan in Kazakhstan.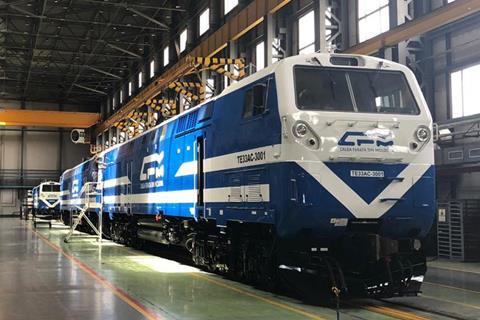 The TE33AC locomotives for CFM have a 12-cylinder 4 000 hp Evolution Series engine meeting EU Stage IIIA emissions standards. Wabtec said they would provide 'high power output, enhanced productivity, greater flexibility, lower life-cycle costs and improved reliability' when hauling heavy trains on the 1 520 mm gauge network.
They will produce significantly lower emissions than CFM's legacy fleet of Soviet-era diesel locomotives, and offer lower fuel and oil consumption as well as increased maintenance intervals.
The €45m order announced in November 2018 includes modernisation of Chișinău locomotive depot. It is being financed by the European Bank for Reconstruction & Development and the European Investment Bank as part of a €110m programme of railway reform and modernisation in Moldova.