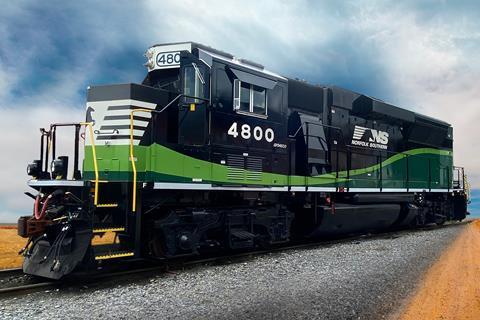 USA: Progress Rail and Norfolk Southern have started testing the first EMD GP34ECO locomotive for yard work and intermediate freight traffic, which uses selective catalytic reduction to meet Environmental Protection Agency Tier 4 emissions regulations.
Remanufactured from a GP59 at Norfolk Southern's Juniata Locomotive Shop in Altoona, Pennsylvania, and the loco is expected to enter service at Harrisburg later this year.
It is powered by a 3 000 hp 12-710 EMD engine, and fitted with a diesel exhaust fluid after-treatment system that offers a 90% reduction in NOx emissions and significantly higher fuel efficiency than previous designs. It has also been fitted with a crashworthy cab and new electronic controls.
'The GP34ECO locomotive design was based on incorporating a Tier 4 system intended to fit our GP and SD locomotive platforms', explained Ahmed Moustehy, Vice-President of North America Rolling Stock Sales for Progress Rail, on September 30. 'As part of our commitment to sustainability, we plan to work with our customers to identify opportunities for other ECO programs in the future.'
Tom Schnautz, Vice-President of Advanced Train Control at NS, said 'we have a strong history of modernising our locomotive fleet – strengthening our daily operations while furthering our sustainability goals.
'In recent years, we have collaborated with Progress Rail to upgrade more than 100 locomotives that power our road and terminal operations. This new locomotive is another step forward in our modernisation journey, and we look forward to achieving Tier 4 emissions certification.'