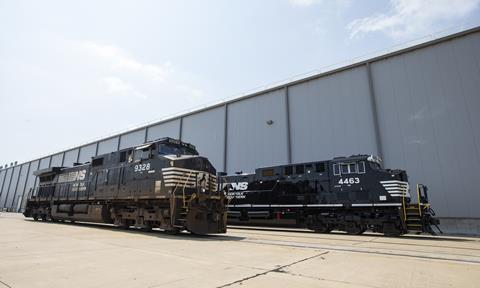 USA: Norfolk Southern has awarded Wabtec Corp a multi-year contract to rebuild a further 330 Dash 9-44CW diesel locomotives to AC44C6M, improving their efficiency and reducing emissions.
The modernised locomotives will feature the FDL Advantage engine upgrade, as well as Trip Optimizer, SmartHPT and Distributed Power systems. The changes are expected to provide a 25% improvement in fuel efficiency, a more than 40% increase in reliability, a 55% increase in haulage capability and a 20% reduction in maintenance, repair and overhaul expenses.
The deal announced on March 23 is Wabtec's third major modernisation order from NS since 2015, with more than 950 locomotives to be completed by 2025.
'Wabtec's proven modernisation programme allows us to maximise the value of our locomotives, minimise the use of new materials, and reduce the environmental impact of our operations', said Tom Schnautz, Vice-President, Advanced Train Control, at Norfolk Southern.