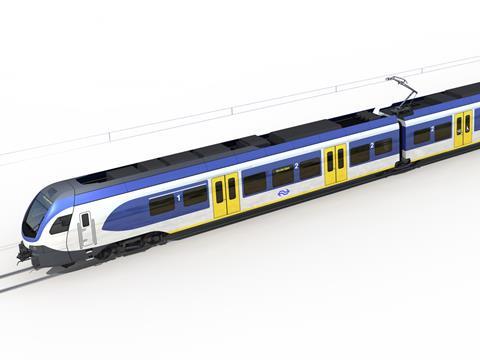 NETHERLANDS: National passenger operator NS formally awarded Stadler Rail a €280m firm contract to supply a total of 58 Flirt electric multiple-units on April 22. Deliveries are scheduled by the end of 2016,
On December 5 NS had announced plans to order around 60 off-the-shelf Stadler units to meet its short-term need for more capacity on commuter and regional routes, using 'urgency mode' provisions in EU procurement rules to place the order without tendering. Alstom and Bombardier launched legal challenges, but these were withdrawn in January.
The units will be similar to six Flirts which Abellio has ordered for Gouda – Alphen an der Rijn services. The 25 four-car units for NS will have 32 seats in first class, 170 in second, 12 tip-up seats and 26 handholds. The 33 three-car units will have 32 seats in first class, 114 in second, 12 tip-up seats and 20 handholds. All will have at-seat USB sockets, multi-purpose spaces in the entrances, and an accessible toilet.
The 1·5 kV DC EMUs will have aluminium bodyshells, with 'the latest crash fronts' for passive protection in the event of collisions at level crossings. Their maximum speed will be 160 km/h, and there will be provision for the installation of ETCS.
This is the first contract NS has awarded to Stadler. The supplier said it had been able to 'demonstrate an unparalleled degree of flexibility' to meet 'the very short delivery deadlines for such a large number of vehicles', saying long lead times on many rolling stock components mean it is more common for vehicle production to begin one to two years after an order is placed.
'This order increases the number of Flirt trains sold to 1 094', said Stadler Rail Group owner and CEO Peter Spuhler. 'Once again, we have been able to demonstrate that we are in a position to guarantee very short delivery times.'
The CAF Civity and Stadler Flirt EMUs ordered by NS were described in more detail it the April 2015 issue of Railway Gazette International magazine, which subscribers can access in the digital archive.