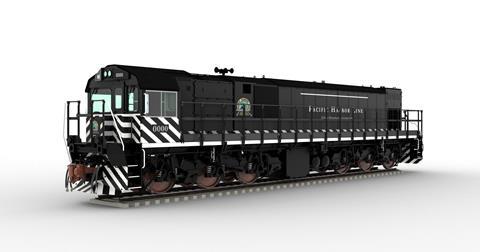 USA: Pacific Harbor Line is to test progress Rail's 3 200 hp EMD Joule lithium-ion battery shunting locomotive in the ports of Los Angeles and Long Beach from the second half of 2021.
Anacostia Rail Holdings subsidiary PHL provides shunting services and dispatches all BNSF Railway and Union Pacific trains within the ports.
'PHL has always been in the forefront of demonstrating and acquiring successful new, low emission technology', said PHL President Otis Cliatt II on November 13. 'The Joule is the first battery electric switcher locomotive designed by a major locomotive supplier for North America that appears robust enough for the demanding PHL environment. As such, PHL is pleased to have the opportunity to demonstrate this technology.
'What Progress Rail and PHL will learn from this demonstration will hopefully advance the prospects for zero emission locomotive solutions in the San Pedro Bay ports.'
The EMD Joule will have a battery capacity of 2·4 MWh providing a run time of up to 24 h, depending upon charging and utilisation.
Port of Los Angeles Executive Director Gene Seroka said PHL 'has a long history of using the cleanest rail technology available to serve this port complex', and with each of its terminals using PHL for rail services 'we commend its leadership for taking a prominent role with respect to demonstrating zero emission rail technology.'
The EMD Joule was announced earlier this year, when Progress Rail said it was working with mining group Vale to develop a 3 000 hp shunter with a battery capacity of 1·9 MWh for use at the Tubarão Complex at Vitória in Brazil.