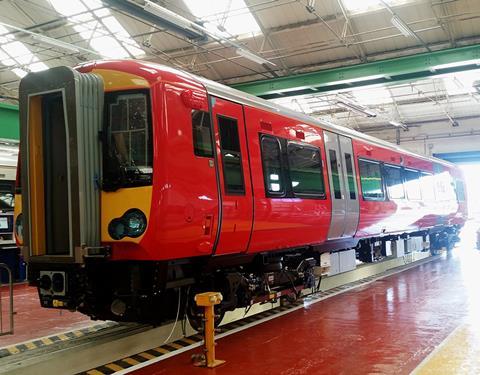 UK: Porterbrook Leasing announced an order for a further 80 Bombardier Transportation Class 387 Electrostar electric multiple-unit cars on November 2. They are to be built at Bombardier's Derby plant for delivery between October 2016 and June 2017.
The leasing company said the order would 'help satisfy the future demand for mid-distance electric trains' which will be required for the lines to be electrified 'in the near future' and 'to alleviate higher than forecast passenger growth and overcrowding'.
Porterbrook said 'a number of parties' had expressed interest in leasing the EMUs, including Transport for London's Rail for London subsidiary and also 'established operators' and prospective bidders for upcoming franchises.
Porterbrook has previously ordered 29 four-car Class 387/1 EMUs for interim use on Thameslink-branded services pending delivery of the Siemens Class 700 Desiro City fleet at which point they will be transferred to Great Western, plus 27 Class 387/2 units for Gatwick Express-branded services and an extra eight units for Great Western services.